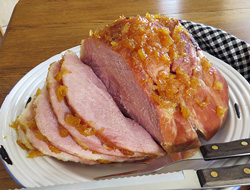 Directions
Preheat oven to 325° F.
Trim off any skin from the ham and trim fat to 1/4 inch.
Place the ham on a rack in a roasting pan. Add 1 cup of water to the pan. Cover with foil.
Place in the preheated oven and bake for approximately 20 minutes per pound. Watch carefully and remove ham from the oven when it reaches 135° F. when check with thermometer. Do not overcook.
While the ham is baking, mix all the glaze ingredients and cook over medium heat stirring constantly until thickens and boils. Boil 1 minute.
Remove the foil and apply glaze to ham during the last 30 minutes of baking time.
Prep Time: 15 minutes
Cook Time: 2.5 hours
Container: Roasting pan


Ingredients
-
8 pounds fully cooked half ham, bone-in
-
8 ounces crushed pineapple
-
1/4 teaspoon salt
-
1 cup brown sugar
-
2 tablespoons lemon juice
-
1 tablespoon cornstarch
-
1 tablespoon prepared mustard