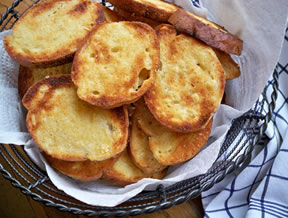 Directions
Mix all ingredients together until smooth; spread on front and back of French bread slices.
Put under broiler until light brown; turn and brown other side.
Or, cut the loaf of French bread in half lengthwise and spread mixture on both halves. Wrap loosely in foil and warm in a 350 degrees F. oven for 15 to 20 minutes. Slice crosswise before serving.
Serve hot.
Prep Time: 25 minutes
Cook Time: 15 minutes


Ingredients
-
1/4 cup butter or margarine
-
1/4 cup Parmesan Cheese
-
1 tablespoon oil
-
1 teaspoon garlic powder