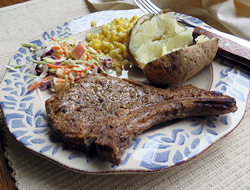 Directions
Add all ingredients in a gallon zip-top bag and mix together.
Add the pork chops, or meat of your choice; marinate for an hour.
Remove the meat from the marinade and place on a preheated grill. For thin pork chops, cook 3 to 4 minutes on each side or until done to desired doneness.
NOTE: This marinade is especially good for stuff going on the grill. Meat and vegetables can marinate up to an hour, seafood only needs about 10 minutes. Marinate to taste.
Prep Time: 10 minutes
Cook Time: 10 minutes


Ingredients
-
6 pork chops, 1/2 inch thick (or meat of choice)
-
1/3 cup olive oil
-
2 tablespoons balsamic vinegar
-
3 cloves garlic, minced or pressed
-
1/2 teaspoon salt
-
1/2 teaspoon pepper
-
1 teaspoon cajun seasoning mix