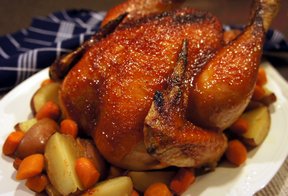 Directions
Salt and pepper chicken, place in roaster with breast up. Roast at 350° for 1 hour.

There will be juices in the bottom of roaster. Add potatoes and carrots, and season with salt and pepper. Roast for another 1 hour.

Meanwhile, in a small bowl, combine brown sugar, ketchup and vinegar. The last 20 minutes pour sauce over chicken.
Prep Time: 5 minutes
Cook Time: 2 hours


Ingredients
-
1 whole chicken, rinsed
-
salt and pepper, to taste
-
8 potatoes, chunked
-
4 carrots, peeled, chunked
-
1 cup brown sugar
-
1/4 cup ketchup
-
2 teaspoons vinegar