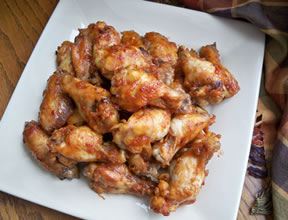 Directions
Cut wings into sections. In plastic bag, combine remaining ingredients. Reserve 1 C for basting and refrigerate.
Add wings to bag, turn to coat. Seal bag and refrigerate for 4 hours.
Grill the chicken covered over medium heat for 16 minutes, basting and turning several times, grill uncovered 8 minutes. The wings may be baked in a 375° oven for 30 - 40 minutes.
Prep Time: 30 minutes
Cook Time: 1 hour


Ingredients
-
2 1/2 pounds chicken wings
-
1 cup maple syrup
-
2/3 cup chili sauce
-
1/2 cup onion, finely chopped
-
2 tablespoons Dijon mustard
-
2 teaspoons Worcestershire sauce
-
1/4 teaspoon crushed red pepper flakes