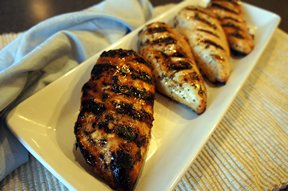 Directions
Combine garlic, salt, brown sugar. olive oil, juice of lime and lemon, and seasonings in blender and whirl until well mixed.

Place chicken breasts in a two gallon zipper bag and cover with marinade. Seal to close and marinate for 6-8 hours, turning hourly.

Grill breasts until internal temperature is 165.

NOTE: The chicken is good served either warm or cold.
Prep Time: 10 minutes
Cook Time: 15 minutes
Servings: 4


Ingredients
-
4 chicken breasts, boneless, skinless
-
3 cloves garlic, crushed
-
1 1/2 teaspoons salt
-
1/2 cup brown sugar
-
3 tablespoons olive oil
-
1 lime
-
1/2 lemon
-
1/4 teaspoon freshly ground pepper
-
1 teaspoon dried oregano
-
1 teaspoon dried basil
-
1 teaspoon dried tarragon