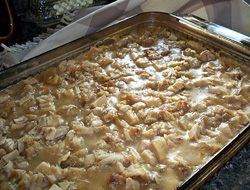 Directions
Preheat the oven to 350 degrees F. Grease the bottom and sides of a 9 x 13 casserole dish.
Spread the mashed potatoes evenly in the bottom of the casserole.
Spread pieces of turkey and dressing over the mashed potatoes, using only half of each; then drizzle half the gravy over the turkey and dressing.
Sprinkle with pepper and add the other half of the turkey and dressing; drizzle with the remaining gravy.
Cover with foil and bake for 45 - 60 minutes.
Ingredients
-
2 1/2 cups leftover mashed potatoes
-
2 cups leftover turkey
-
2 cups leftover dressing
-
2 cups leftover gravy
-
Black pepper to taste