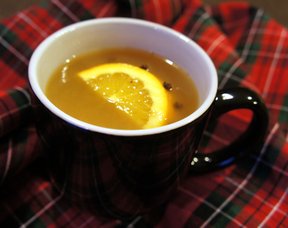 Directions
Tie cinnamon, cloves and nutmeg in a piece of cheesecloth. Combine with cider and sugar in large saucepan and simmer 15 minutes.

Remove spice bag. Add fruit juices. Bring to boil.

Remove from heat. Add brandy, if desired, and serve from heated punch bowl or large chafing dish with oranges floating.
Prep Time: 15 minutes
Cook Time: 15 minutes
Servings: 20
Serving Size: 4 ounces


Ingredients
-
3 sticks cinnamon
-
2 teaspoons whole cloves
-
1 whole nutmeg OR 1/2 teaspoon ground nutmeg
-
1/2 gallon apple cider
-
1 cup sugar
-
2 cups orange juice
-
1/2 cup lemon juice
-
1/2 cup apple brandy
-
1 orange, studded with cloves

Nutrition
(per serving)
Calories: 110 Calories
Fat: 0 Grams
Protein: 0 Grams
Cholesterol: 0 Milligrams
Carbohydrates: 25 Grams
Sodium: 15 Milligrams
Fiber: 0 Grams