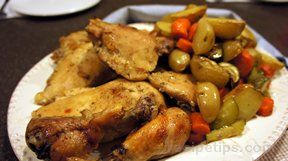 Directions
Preheat oven to 400 degrees F.

Brush the chicken with softened butter. Sprinkle generously with salt and pepper.

In a large bowl combine the carrots, zucchini, mushrooms and potatoes. Add the melted butter and toss to coat. Add salt and pepper to taste.

Put the chicken in a roasting pan and scatter the vegetables around the chicken. Pour in stock and top with herb sprigs. Roast the chicken for 1 1/2 to 2 hours. Turning the vegetables a few times to evenly brown.

NOTE: If you used a whole chicken, you will need to cut the chicken into serving size pieces and serve with the vegetables.
Prep Time: 15 minutes
Cook Time: 1.5 hours
Servings: 8


Ingredients
-
7 pounds roasting chicken, cut into pieces
-
1 tablespoon unsalted butter, softened
-
1/2 cup unsalted butter, melted
-
3 carrots, cut into chunks
-
2 zucchini, thickly sliced
-
8 ounces button mushrooms, stemmed and halved (optional)
-
1 pound fingerling potatoes, halved
-
1/2 cup low sodium chicken stock
-
4 sprigs rosemary, more to garnish
-
8 fresh sprigs of thyme, more to garnish
-
salt and pepper