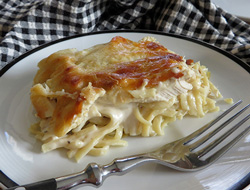 Directions
Preheat oven to 400° F. Grease the bottom and sides of the baking dish.
Cut cooked chicken breasts into strips.
Break linguine noodles in half and cook according to package directions. Put cooked linguine noodles in the bottom of the greased baking dish.
Pour Alfredo sauce over noodles. Place chicken breast strips over the sauce.
Sprinkle garlic salt over chicken. Top with the cheeses.
Bake for 30 minutes in the preheated oven.
Prep Time: 60 minutes
Cook Time: 30 minutes
Container: 9 x 13 baking dish
Servings: 12


Ingredients
-
1 package linguine noodles, 16 oz. pkg.
-
1 jar Alfredo sauce
-
3 cooked chicken breasts (large)
-
garlic salt
-
2 cups shredded Mozzarella cheese
-
1/2 cup shredded Parmesan cheese