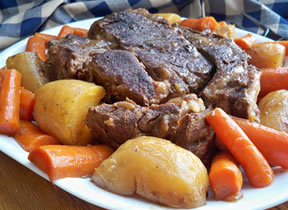 Directions
Pour both cans of soup in crock pot and stir until mixed. Do not add water.
In a skillet, salt and pepper roast; brown in melted butter.
Place roast into soup. Salt and pepper vegetables and arrange around and on top of roast.
Cook 8 to 10 hours on low setting or until roast is fork tender.
Leftovers: Cut remaining roast into chunks and place back in pot with leftover vegetables and broth. Heat and serve with rolls. It's even better the next day!
Prep Time: 45 minutes
Cook Time: 6 or more hours
Container: 6 quart slow cooker


Ingredients
-
1 chuck roast
-
5 potatoes peeled and quartered (I use more potatoes if I want leftovers)
-
1 package mini carrots (No peeling!) or one pound of carrots peeled and cut up. (large bag)
-
2 onions peeled and quartered
-
1 can French onion soup (large can)
-
1 can cream of mushroom soup
-
Salt and pepper