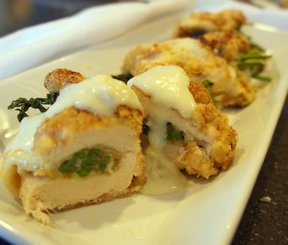 Directions
Preheat oven to 350 degrees F. Flatten the chicken breasts with a meat mallet between plastic wrap to 1/4 inch thickness.
In the foloowing order, dredge each chicken breast: melted butter, flour, egg, then bread crumbs.
Place asparagus spears in the center of the chicken wrap chicken around them and hold together with toothpick. Place them in a glass baking dish.
Bake for 45-50 minutes or until internal temperature reaches 160.
For the sauce, while the chicken is baking, melt the butter in a small sauce pan. When melted, add flour and whisk making sure you don't have any lumps. Add the cream and cook until sauce thickens and lumps are worked out. Reduce the heat and add the tarragon. If the sauce becomes too thick, just add a little more cream.
Plate the chicken bundle and top with tarragon sauce.
Prep Time: 15 minutes
Cook Time: 45 minutes
Servings: 4


Ingredients
-
4 chicken breasts, boneless, skinless
-
4 tablespoons unsalted butter
-
1/2 cup flour
-
1 cup bread crumbs
-
2 eggs, slightly beaten
-
12 stalks asparagus
-
CREAMY TARRAGON SAUCE:
-
4 tablespoons unsalted butter
-
1/2 cup flour
-
2 cups lite cream
-
2 tablespoons fresh or dried tarragon