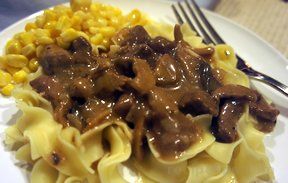 Directions
Brown meat in oil.

Add water and seasoning mix. Stir to loosen browned bits from pan. Transfer meat and drippings to a 3-quart slow cooker.

Sauté mushrooms and onion in butter until tender. Combine the wine, mustard and sugar, stir into mushroom mixture. Add to slow cooker. Cover and cook on low for 6-8 hours or until meat is tender.

Stir in sour cream. Serve with noodles. Sprinkle with parsley if desired.
Ingredients
-
2 pounds beef top sirloin steak, cut into thin strips
-
3 tablespoons olive oil
-
1 cup water
-
1 packet beef stroganoff seasoning (1 1/2 ounce pkg)
-
1 pound mushrooms, sliced
-
1 onion, chopped
-
3 tablespoons butter
-
1/4 cup port wine or beef broth
-
2 teaspoons ground mustard
-
1 teaspoon sugar
-
1 1/2 cups sour cream
-
egg noodles, cooked
-
fresh parsley, minced (optional)