Marzipan is an edible clay-like substance that can be molded into creative shapes for garnishments. The pliable substance can be purchased at your local grocer or you can make marzipan by following this recipe: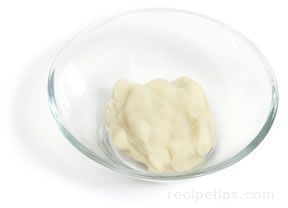 1 cup of almond paste
2 egg whites
2 3/4 cups of confectioner's sugar
1/2 teaspoon vanilla
Knead the almond paste until it has softened. Add eggs whites, mix. Knead in Confectioners sugar 1/4 cup at a time. Add vanilla and knead.
If storing for later use, wrap in plastic and place in a sealed container in the refrigerator. Before using, allow to stand at room temperature to soften and knead briefly.
The marzipan will harden quickly if not sealed. If the marzipan hardens, add a bit of water to soften.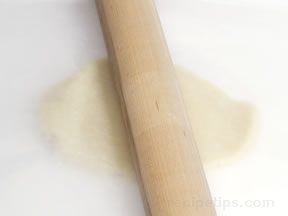 To flatten marzipan before cutting, place in between two sheets of wax paper before rolling out.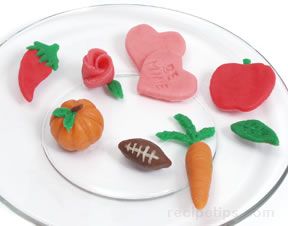 Add food coloring in small amounts until desired color is achieved. Use toothpicks to make "realistic" indentations or add small bits of color.