Baking asparagus is quick and easy; oven-roasting brings out the natural sweetness of vegetables and asparagus has a lot of sweetness to highlight. You can have a fantastic side dish in about 15 minutes, counting prep time.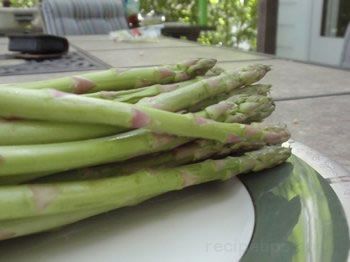 Baked or roasted asparagus is a quick and delicious way to prepare asparagus.


Basic Recipe for Baked Asparagus


Wash the asparagus and snap off the ends. Pat it dry, then toss lightly with olive oil to coat. Spread in a single layer on a cookie sheet. Bake in oven at 400 degrees for about 10 minutes. (Check midway. You want them tender and even a little crisp, but not charred or limp.) Sprinkle with salt and pepper.


Variations for Baked Asparagus


There are a lot of ways to vary this basic recipe to your own tastes:
Squeeze a lemon over the spears of asparagus just before you bake them.
Toss them with balsamic vinegar along with the olive oil, or sprinkle balsamic vinegar over the spears after you remove them from the oven.
Sprinkle them with toasted sesame seeds.
Add a dash of soy sauce.
Sprinkle the asparagus spears with shredded parmesan cheese before you bake them in the oven.
Peel and mince two cloves of garlic, toss the garlic with the olive oil and the asparagus spears, and bake the asparagus and garlic together.
Use flavored olive oil.


Baked Asparagus with Prosciutto


For a delicious treat, try baked asparagus with prosciutto. You'll need:
1 pound asparagus (choose the thickest stalks you can find)
1/4 pound prosciutto from a good deli, sliced thin
olive oil
cooking spray
Spray a cookie sheet and preheat the oven to 400 degrees.

Wrap each asparagus spear in a piece of prosciutto. It doesn't need to look perfect, and if the prosciutto comes apart while you're working, that's not a big deal. Lay the wrapped spears on the cookie sheet in a single layer, then drizzle with olive oil.

Bake about ten minutes, or until the prosciutto looks crispy. (Prosciutto is a specialty ham, and comes fully cooked from the deli section of your grocery store, so you don't have to worry about undercooking it.)


Tips for Baking Asparagus


You don't HAVE to use olive oil. Any vegetable oil will work (though it's better with olive oil.)
If you have a family member who hates asparagus, try the baked asparagus with prosciutto. Many asparagus-haters discover they like it a lot if you wrap it in prosciutto. Also, people who dislike steamed asparagus often find that they really like it when it's baked until a little crispy and lightly salted.
Ten minutes is just a recommendation! Thinner stalks will cook more quickly, and thicker stalks will cook more slowly. Check frequently. Don't overcook!