Food Dating Guidelines | Nutritional Data | Ingredients List
Inspection and Grading | Cooking Instructions | Safe Handling Instructions
The labeling on food packaging provides information designed to make shopping an easy experience and to provide the consumer with valuable information in order to make appropriate choices for their dietary requirements. Included on a typical food label, is information describing the product, sell-by or use-by dates, nutritional data, ingredients, inspection and grading, cooking instructions if applicable, and safe handling instructions.
A number of terms are found on food products to indicate freshness and the age of the product. Described below are some of the more common methods of product dating.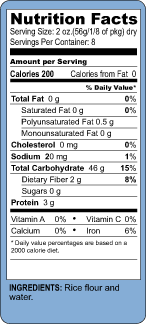 Most commercially prepared and packaged food products are required to provide nutritional information on the food label. Foods such as raw, market ready meat cuts and fresh bakery items are exempt from this requirement.
The nutritional data shown on the label includes calories, fat and cholesterol content, protein, fiber, sugars, sodium, and various vitamins and minerals. The nutritional information is based on the serving size, which is always listed at the top, followed by the approximate number of servings contained in the package. Similar food products base the nutritional data on a similar serving size to allow the consumer easy nutritional comparison of similar products.
The listing of ingredients in a food product often reveals a great deal about the product. The ingredients are usually listed according to the quantity of each ingredient used in the product. The ingredient constituting the greatest proportion of all the ingredients is usually listed first. The ingredient list also is important to people with food allergies to ensure that a particular food product is free of a troublesome ingredient.
The inspection and grading of certain food products in the United States is an important step in assuring a safe food supply. Certain foods, such as poultry and red meat, undergo mandatory inspection by the USDA (United States Department of Agriculture) and carry a USDA seal to indicate this.
Example of a USDA Inspection Seal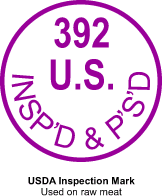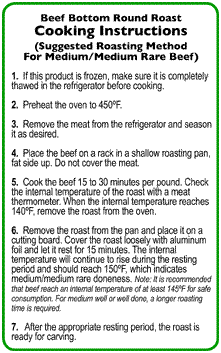 If a product is raw or partially cooked, the label may provide information for proper cooking. Some products are precooked, so the food label will indicate that the product is "fully cooked" or "ready-to-eat". Some of these ready-to-eat products require refrigeration while others can be stored at room temperature. Products, such as canned goods, are precooked, but taste much better if they are heated before they are consumed. These products are known as "heat and eat".
Some product labels, such as those for raw meat, contain instructions for safe handling to prevent foodborne illness. Proper food handling practices should always be followed. Consider the following list: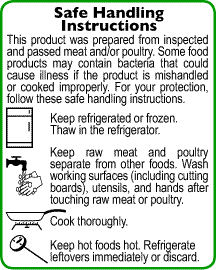 Wash hands thoroughly before handling and preparing foods.


Be aware of cross contamination during food preparation.


Thaw meat in the refrigerator.


Cook food completely.


Keep hot foods hot and cold foods cold.


Promptly refrigerate leftovers.