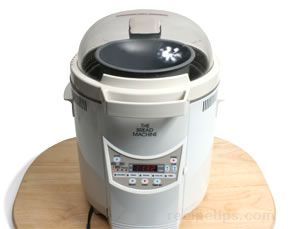 A bread machine is a useful tool that eliminates most of the work involved in bread making, allowing even the busiest people to make homemade bread on a regular basis. Bread machines are designed to be as simple to use as possible. Most models require only a few simple steps: measure the ingredients called for in the bread recipe, add the ingredients to the machine, select the proper settings for the type of bread being made, and press the start button. The machine does the rest of the work: it mixes the ingredients, kneads the dough, allows the dough to rise, and bakes the bread.
There are many different makes and models of bread machines available. Some offer a variety of features that allow a wider range of breads to be made with the machine. Common features include a range of temperature settings for baking, a rapid baking cycle, settings for controlling the darkness of the crust, timers to allow the bread to be made at a later time, and a feature in which the bread machine does the mixing, kneading, and rising, but not the baking. This is a handy feature when bread shapes other than the loaf shape provided by the canister of the bread machine are desired.
All makes and models have differences, but the following simple steps are representative of the steps required for making bread in most machines.